The Twilight Zone premiered on CBS in October 1959 and was widely syndicated after its last episode in 1964. It employed the ideas and imagery of modern art to explore social and cultural issues from racism and segregation to corporate greed. The half-hour dramatic series was created by Rod Serling, already known for his artful and socially conscious scripts for Playhouse 90, The United States Steel Hour, and Kraft Television Theater.
Serling repeatedly clashed with television executives and sponsors over their attempts to censor or water down the social content of these earlier programs. Frustrated with the medium's commercialism—and its timidity on controversial issues—Serling set out to create The Twilight Zone. Ironically, the context of "popular entertainment" afforded him ample opportunity to express social and political concerns.
With exquisite cinematography and haunting art direction, the series melded science and the occult, the natural and supernatural, and art and politics into morally charged stories about the nature of life in the nuclear age.
"THERE IS A FIFTH DIMENSION BEYOND THAT WHICH IS KNOWN TO MAN. IT IS A DIMENSION AS VAST AS SPACE AND AS TIMELESS AS INFINITY. IT IS THE MIDDLE GROUND BETWEEN LIGHT AND SHADOW, BETWEEN SCIENCE AND SUPERSTITION. AND IT LIES BETWEEN THE PIT OF MAN'S FEARS AND THE SUMMIT OF HIS KNOWLEDGE. THIS IS THE DIMENSION OF IMAGINATION. IT IS AN AREA WHICH WE CALL THE TWILIGHT ZONE."
OPENING NARRATION, THE TWILIGHT ZONE, SEASON ONE, 1959
"EVERYTHING LEADS US TO BELIEVE THAT THERE EXISTS A SPOT IN THE MIND FROM WHICH LIFE AND DEATH, THE REAL AND THE IMAGINARY, THE PAST AND THE FUTURE, THE HIGH AND THE LOW, THE COMMUNICABLE AND THE INCOMMUNICABLE WILL CEASE TO APPEAR CONTRADICTORY."
ANDRÉ BRETON, SECOND MANIFESTO OF SURREALISM, 1930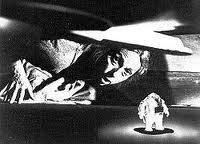 Screen captures, The Twilight Zone, CBS, 1959–1964
WATCH: "The Monsters are Due on Maple Street," The Twilight Zone, CBS, 1960
WATCH: "Eye of the Beholder," The Twilight Zone, CBS, 1960
WATCH: Number Twelve Looks Just Like You, The Twilight Zone, CBS, 1964