The avant-garde has been a source of ideas for popular culture since the birth of modernism in Paris in the mid-1800s. In the mid-twentieth century, this influence was felt not just in the realms of popular culture, such as film, television, and journalism, but also in public relations, advertising, marketing, and fashion—from a dress inspired by Andy Warhol's repetitive Pop art images to fashionable boots with a motif based on the austere geometric paintings of Piet Mondrian. The lines separating marketing, fashion, and style began to blur.

Paul Rand, designer, ABC logo, 1961.
Experimenting with letter forms that would remain readable even with poor television reception, Paul Rand designed ABC's trendsetting Minimalist trademark. The logo remains in use to the present day.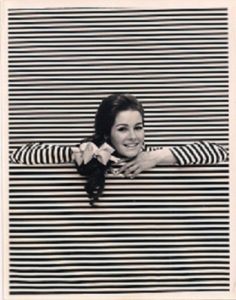 Dorothy Catherine Ansett, Miss USA, 1968. CBS promotional photograph. Gelatin silver print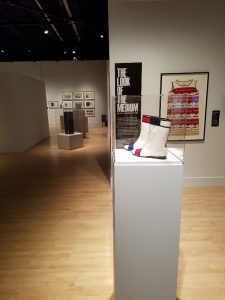 (Foreground) installation view, Revolution of the Eye, Center for Art, Design, and Visual Culture, University of Maryland, Baltimore County, Baltimore, September 2016. (Foreground) High Brow Boots, c. 1965. Vinyl. Private collection. Installation photo courtesy of CADVC.
These boots, fashioned after the paintings of Piet Mondrian, owe much to the celebrated 1965 Mondrian day dress by the couture designer Yves Saint Laurent. They were issued as a promotion for the NBC variety show Hullabaloo, whose dancers were famed for their white vinyl go-go boots.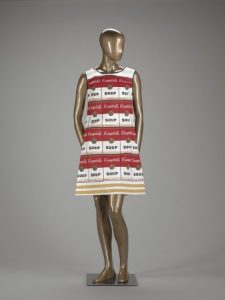 Designer unknown, The Souper Dress, c. 1967. Offset on treated paper. Private Collection
Andy Warhol's use of commercial products as source material for high art became, in turn, source material for other products. In the late sixties, disposable offset-printed paper dresses were a fad; this one is inspired by Warhol's 1962 Campbell's Soup Cans, and was produced by the Campbell Soup Company as a promotion.