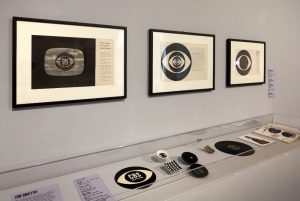 CBS was known as the "Tiffany network," for its aesthetic discernment and high-quality programming. Early on, it chose a corporate image that attempted to unite the best of contemporary design with the dynamism of the new broadcast medium. Dr. Frank Stanton, president of the network from 1946 to 1973, insured a highly controlled corporate image by establishing an in-house advertising and marketing division.
The groundbreaking CBS design campaign was the work of a team of cutting-edge art directors and graphic designers, including Lou Dorfsman, William Golden, Georg Olden, Cipe Pineles, and Kurt Weihs. It was consistently influenced by modern art and design—from the modified Didot typeface of the signage in the company's New York headquarters to the smart and elegant CBS eye trademark.
The network's embrace of modernism also reflected the interests of its executives, from Stanton, who collected avant-garde art, to its founder and president, William Paley, who served on the board of the Museum of Modern Art, and later donated his art collection to that institution.
(Above) installation view, Revolution of the Eye, NSU Art Museum Fort Lauderdale, October 2015: The CBS Eye. Courtesy of NSU Art Museum. (Above vitrine, left to right) William Golden, Art Director, "The Sign of Good Television," Fortune, December 1951; Kurt Weihs, Designer/ William Golden, Art Director, "Concentric Eye," Fortune, February 1955; William Golden, "My Eye," Print, May–June 1959