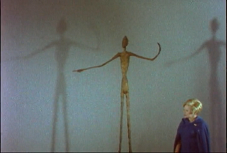 Modernism for the Masses
Aline Bernstein Saarinen introduced a vast audience to modernist art, design, and museums. In 1963 she became the art and architecture editor and on-air critic of NBC's Today and Sunday shows, the first such appointment on a national American television news program. Filmed stylishly, often with the flair of French New Wave cinema, Saarinen's presentations were lucid, urbane, and informative, introducing a generation of Americans to the art and architecture she supported. Saarinen believed that the appreciation of art was not limited to insiders and cultural elites. She rejected the idea that art must be understood in purely aesthetic terms, a view advocated at the time by many art critics, who shunned discussion of the social or cultural contexts that influence and define art.
(Above), screen capture, Aline Saarinen, "Alberto Giacometti," The Sunday Show, NBC, May 24, 1964
Aline Saarinen as Writer
For millions of Americans, Saarinen demystified modern art, a subject avoided by some news organizations for its seeming obscurity and elitism. She encouraged the discussion of art in mainstream venues, making it broadly available.
In addition to her work on NBC, Saarinen wrote for a range of mainstream publications, including The Reader's Digest, Vogue, and The New York Times, frequently examining the relationship between art and society. Writing for the women's magazine McCall's in the 1960s, Saarinen promoted the reproduction of important art objects in prints that could be removed from the magazine and framed. She also wrote and reported about a range of cultural practices, from public monuments and architecture to folk art. Her 1960 monograph on Jacob Lawrence was one of the first books on the African American painter.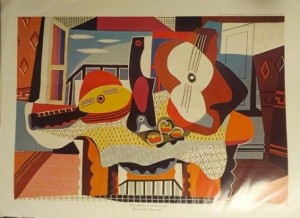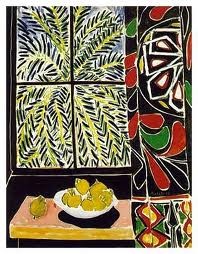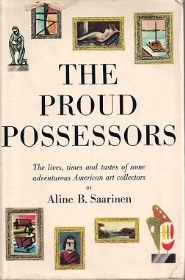 (Top) Pablo Picasso, Mandolin and Guitar, removable color full-page reproduction with text on reverse by Aline Saarinen, McCall's, February 1968; (middle) Henri Matisse, Interior with an Egyptian Curtain, removable color full-page print with text by Aline Saarinen, McCall's, January 1969; (bottom) Aline Saarinen, The Proud Possessors, Random House, 1958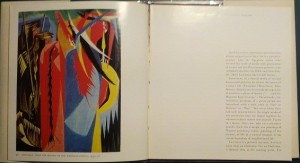 Aline Saarinen, Jacob Lawrence, American Federation of Arts, 1960