Kovacs carefully groomed his public image as a rebel who challenged authority and refused to conform to industry standards and practices. He publicly excoriated corporate brass for reining him in. This rebelliousness was typified by his avant-garde novel, Zoomar: A Sophisticated Novel about Love and TV. There he examined a broadcast executive's descent into insanity and presented a brutal send-up of the excesses, trashy programming, and suspect business practices of network television.
The novel echoed the sentiments expressed in Kovacs's on-air performances. In his skits and asides to the home audience, he continually alluded to the corrupting influence of money and power, taking aim not only at the corporate interests that underwrote television—and dictated its content—but also the myth of economic value as a signifier of quality.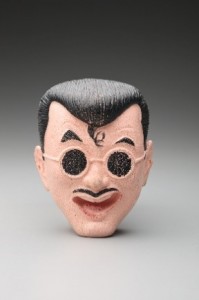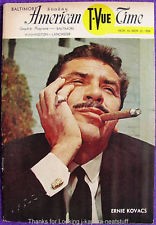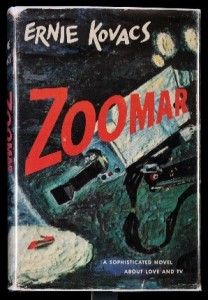 (Top to bottom) The Ernie Kovacs Show studio prop, c. 1956. Pigment on foam rubber. Private collection; Ernie Kovacs on the cover of American T-Vue Time, 1959; Ernie Kovacs, Zoomar: A Sophisticated Novel about Love and TV, Doubleday, 1957
Robert Motherwell, Editor, The Dada Painters and Poets, George Wittenborn, 1951, cover and typography design by Paul Rand
Dada and Surrealism were important precursors of the New York School, an informal and innovative group of artists, musicians, writers, and dancers active in New York City in the 1950s and 1960s—the first generation to work in a cultural environment that included television. This influential publication, edited by the Abstract Expressionist painter Robert Motherwell, offered a comprehensive picture of Dada. Paul Rand, the celebrated graphic designer, was responsible for many of the most recognized logos and commercial designs of the twentieth century.